Winter can be a magical time, so why spend those precious moments at home? Or worse, in the airport security line?
Instead, a scenic winter train ride is an excellent way to not only get to the destination you desire, but also to see the most beautiful views and stops you wouldn't have thought of along the way.
Sure, train travel takes a little bit longer, but the benefits can be huge.
Across the United States, anyone can take a scenic ride through mountains, lakes, rivers and forests for about the same price as an airline ticket — or less — while also traveling in cushier seats and a more relaxed atmosphere than you'd ever get in the air.
And these scenic rides aren't just a summertime getaway. The winter is also magical time to ride the rails. See landscapes blanketed with snow and ice, whether you're in the Northeast, Pacific Northwest or the Midwest. Or, if you're into a milder climate, you can take a lovely trip around the American Southwest to see the red rocks of the Grand Canyon peppered with some snow, or ride along the coast of California, stopping in metropolitan cities like San Francisco, Sacramento and Los Angeles to see how the West Coast does wintertime.
And, who could forget a journey to Alaska, where you can not only drink in the scenery, but also get the perfect Instagram picture of the local wildlife around Denali National Park. Or, you can take a ski trip through the Colorado Rockies to really celebrate the season.
But beyond the fun activities and interesting cities you can visit on your train ride, it all comes down to the fabulous sights. As you take your train vacation, you'll also be able to truly appreciate the natural diversity and beauty of the U.S. — which is a pretty priceless souvenir.
Aurora Winter Train: Anchorage, Alaska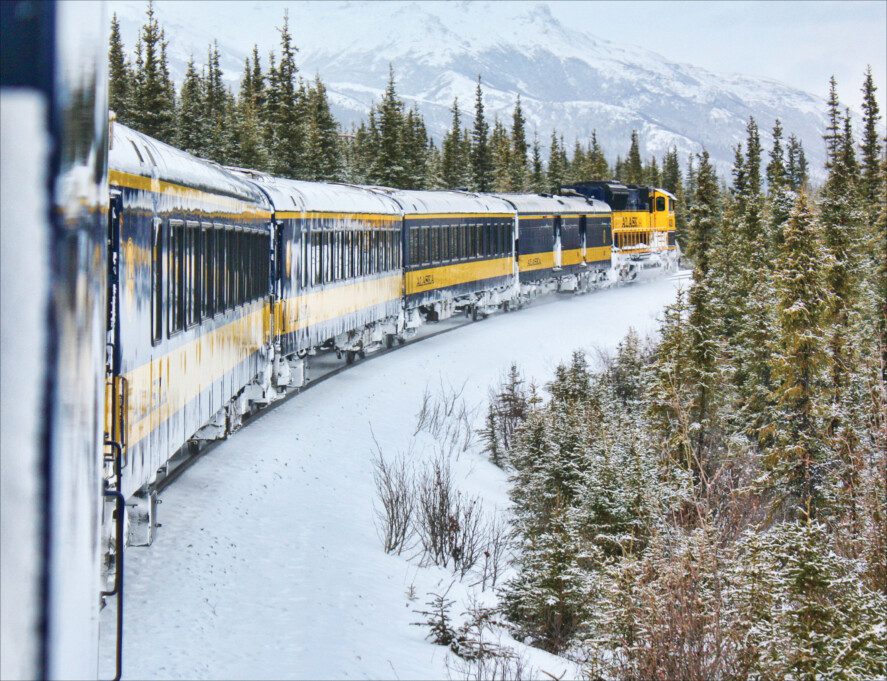 Amtrak Yellowstone: Salt Lake City, Utah
Empire Builder: Chicago, Illinois
Durango & Silverton Narrow Gauge Railroad: Durango, Colorado