KLM Royal Dutch Airlines has apologized for tweeting out statistics of which parts of a plane travelers are most and least likely to die during a crash.
The facts were posted by KLM's India-based social media account, which shared that "the fatality rate for the seats in the middle of the plane is the highest," while that of "seats in the front is marginally lesser." It added that passengers seated on the "rear third of a plane" were historically the safest.
"Seats at the back are the safest!" the company wrote in the now-deleted post.
The most insensitive part? The tweet was sent out on the fifth anniversary of MH17's fatal crash on 17 July 2014, where all 298 passengers and crew of the Malaysian Airlines flight were killed.
Social media users understandably lambasted the account for the untimely announcement, which was casually accompanied with the hashtags "#TuesdayTrivia," "#Aircraft," and "#Facts."
KLM India has since taken down the post, responding to the backlash by tweeting, "We would like to sincerely apologize for a recent update. The post was based on a publically-available aviation fact, and isn't a KLM opinion. It was never our intention to hurt anyone's sentiments. The post has since been deleted."
The company adds that it will revise its Twitter processes such that a mistake like this one doesn't happen again.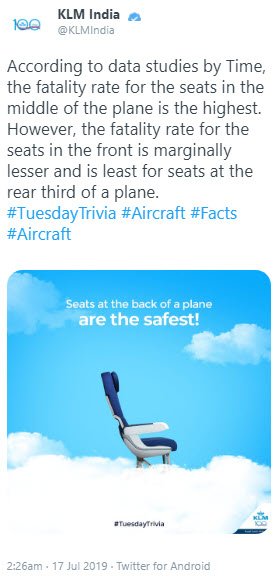 We would like to sincerely apologise for a recent update. The post was based on a publically available aviation fact, and isn't a @KLM opinion. It was never our intention to hurt anyone's sentiments. The post has since been deleted.

— KLM India (@KLMIndia) July 17, 2019